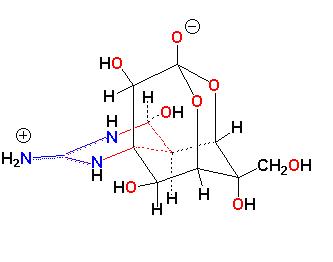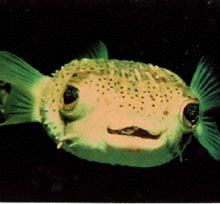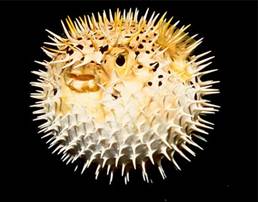 source
Tetrodotoxin (TTX)
source
Fugu
source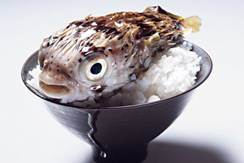 Fugu, Japanese for prepared puffer fish, is known as "the world's most dangerous meal". Many puffer fish, as well as the blue-ringed octopus and the xanthid crab, contain tetrodotoxin (TTX). This toxin accumulates in the puffer fish's intestinal tract (gut) and ovaries. One milligram (1 mg) of tetrodotoxin can kill an adult human. TTX is a powerful blocker of the sodium ion (Na+) channels in the membranes of neurons. Scientists at the FDA hypothesized that puffer fish (and other species that contain TTX) do not synthesize this toxin themselves but actually obtain it from symbiotic bacteria from the genus Alteromas. In fact, FDA scientists were able to raise puffer fish that did not contain any TTX!
When threatened, the puffer fish also will inflate by swallowing water or air rapidly, enlarging itself while displaying spiked scales—a scene that has frightened many predators and fishermen.
The FDA scientists have hypothesized that puffer fish associated with TTX-producing bacteria experience less predation than fish without those bacteria. The bacteria also receive abundant nutrients while inside the fish gut.
Puffer fish are adapted to brackish estuarine waters where the salt content of their external skin cells is equal to that of the estuary.
FDA scientists decided to test the hypothesis that "TTX secretion in puffer fish occurs because fish acquire Alteromas from their food". Worms and squid that are infected by Alteromas bacteria were available as were worms that were uninfected. After the experiment, all of the puffer fish were tested for TTX secretion.
During a tsunami, a small sub-population of a puffer fish species are separated from the parent population and are swept into a lagoon with abundant food and few predators. This lagoon population has 75% red puffer fish whereas the parent population had only 30% red puffer fish.
Some species of algae—-photosynthetic, unicellular, eukaryotic protists—also hitch a ride on the external gills of puffer fish.
---