---
Daphnia are freshwater crustaceans that eat algae from the water column. Daphnia are used an indicator species to determine if water from a particular lake is contaminated with environmental toxins, i.e. the presence of Daphnia indicates a low or zero level of the toxin. Diazinon is a neurotoxin that works by damaging acetylcholinesterase. Diazinon is known to biomagnify. Suspecting contamination of several Oklahoma lakes with the pesticide diazinon, toxicologists raise Daphnia in 100 ml jars each of which contains water from one of five different lakes. They start each jar with 10 Daphnia and count the number after 10 days. Each 100 ml jar can only hold 500 Daphnia.
The hemolymph (i.e. "blood") of Daphnia is about 2% salt solution. Daphnia are thought to have excellent vision, possessing multiple opsin genes that produce light-sensitive proteins found in phototeceptor cells. In low O2, Daphnia increase hemoglobin production and appear red. The scientist does not notice this as he is color blind (an X-linked recessive trait), while his sister notices the red Daphnia.
---
Even before the spring rains, campus lawns begin to appear green, not from photosynthesis but from the green dyes added to the fertilizers spread by the ground crews. Rain subsequently washes much fertilizer into bodies of water like Theta Pond. This fertilizer blend includes ammonium phosphate, potassium nitrate, ammonium nitrate, urea, and several trace metals. Concentrations of these trace metals were measured within a food chain of pond-associated organisms:
---

Spring rains wash some fertilizer into Theta Pond causing it to appear green by June due to exponential growth of photosynthetic algae in the pond.
---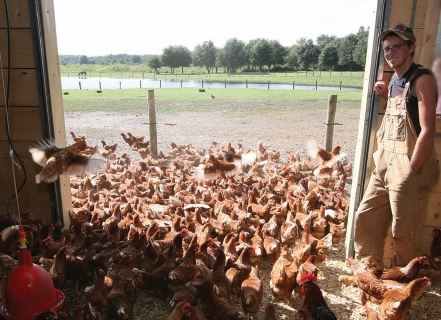 Because of increased contamination with poultry litter (manure and refuse) in the surrounding watershed, two of the reservoirs supplying Tulsa with water underwent eutrophication resulting in blooms of blue-green algae (a photosynthetic prokaryote) that produce a bitter tasting chemical. Increased levels of the chemical have driven up the costs of water treatment. To measure the degree of eutrophication Dr. Robert Carlson developed the Carlson Trophic State Index, which requires repeated measures of light penetration, chlorophyll a levels, and total phosphorus. Some of the light that strikes the chlorophyll is absorbed and some is reflected or transmitted through the algae to the lake below. Other measures used to evaluate eutrophication of lakes include amount of suspended solids, number of algae blooms, oxygen concentrations at the bottom of the lake, and tabulations of aquatic plants and fish. A new student is measuring the levels of biologically important elements in the air above the lake.
______________________________________________________________________________________________________________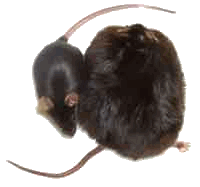 Dr. A. D. Pose is conducting research on obesity and has uncovered a potentially new mutant mouse and called that form Chub-E™. Dr. A. D. Pose observes that the mouse eats large amounts of mouse chow (which consists of proteins, lipids, and carbohydrates), drinks a lot of water, and never runs on its running wheel. Mouse chow is 56% digestible carbohydrate. Eating 50g, a Chub-E can gain 5g of mass in 10 days compared to 0.1g in Normal mice on the same diet. When two Chub-E mice mate, they only produce Chub-E offspring. When Chub-E mice mate with Normal mice (from a stock that has never produced Chub-E mice), they produce normal looking offspring. To check the nature of the mutation, Dr. A. D. Pose injects the mice with leptin and they lose weight. Dr. A. D. Pose finds a mutation in the gene for the leptin receptor in Chub-E mice, but that seems to contradict the data from Dr. A. D. Pose's injection studies. Leptin triggers the production of uncoupler proteins which cause innermitochondrial membranes to become more permeable to H+.
---
Researchers at the Indiana University School of Medicine (IUSM) have discovered a gene BCHE possibly associated with Alzheimer's disease. The normal allele codes for a brain enzyme (protein) that breaks down acetylcholine, a neurotransmitter released into the synapses between neurons and muscle cells as well as between neurons and other neurons related to memory. The mutated allele causes insoluble deposits of the BCHE protein (called plaques) within brain tissue of patients at risk for Alzheimer's. Loss of action potentials in post-synaptic neurons (and memory loss) are often associated with BCHE plaque formation. The IUSM team performed brain scans on 555 hospitalized patients and published what they termed "an association between the appearance of plaques and a mutated BCHE gene". The results were independent of patients' sex. The team published their study in the journal Molecular Psychiatry. One mutated form of the BCHE gene has been characterized to produce a truncated (or shortened) form of the BCHE protein.
---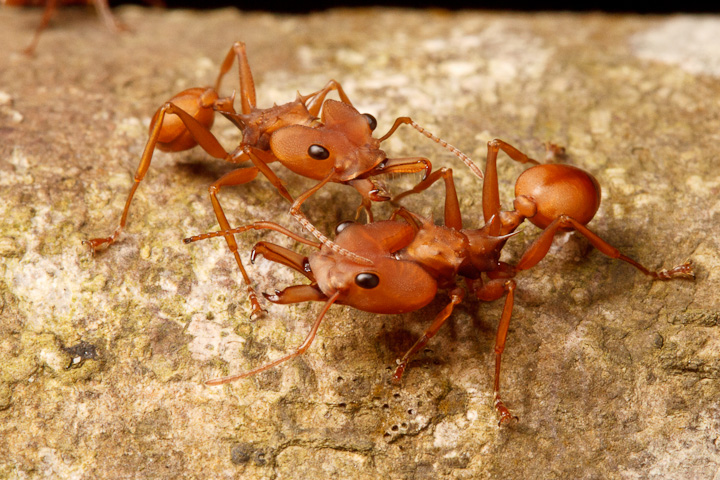 Dr. Moraes, an Evolutionary Biologist, is studying mating behavior in a species of ants in the Amazonian Rainforest. He observed that Odontomachus sp, commonly called "Trap-jaw ant" has males with a hammerhead-like head and females with much smaller head. He took a random sample of 50 males and 50 females and placed them in a cage in his lab for his research. In the lab, Dr. Moraes observed that females mated more often with males with the largest heads. Phenotypes, such as the male ants' big heads, are often considered to be a disadvantageous trait. For example, the males with large heads would not be able to escape from predators.
---
Ant-nest beetles are a group of species in the genus Paussus that live within ant colonies and use chemical cues and behavior to stimulate the ants to accept them and care for their young while the ant-nest beetles prey on the ants. Genetic evidence indicates that the 86 species of these ants that are found on the island of Madagascar appeared rapidly, within a period of about 0.5 million years. Each species lives within the colony of one ant species and exhibit very specific adaptations. The rapid evolution of traits to allow each species to detect, deceive, and communicate with a new ant species suggests the ants and beetles exert a strong selective pressure on one another. Such rapid evolution is likely to be considered adaptive radiation. In these ant species, queens are relatively long-lived and devote tremendous amounts of energy to laying millions of eggs. Males are short lived and provide no parental care.
---