Return to Biology 1114 Scenario Index

For a printable copy of this page click here.

Scenario: A scuba diver is collecting brownish-green algae for the Smithsonian. During her collection, she cuts her finger and is aghast to discover that her blood is brownish-green. Imagine her relief when she surfaces and realizes that her blood looks normally red, as is the algae she collected. We explore the origin of these color changes as a means of demonstrating the physical properties of light, light energy capture by organisms, and photosynthesis.
| | | | | | |
| --- | --- | --- | --- | --- | --- |
| Icon Key: | activity | animation | diagram | quiz | text explanation |
Properties of light
Visible light spectrum
Light absorption and reflection by pigments
Human eye anatomy (animaton)
Human color vision via photoreceptors
Adaptive significance of color vision
Adaptive significance of coloration
Predator-prey relationships based on color:


mimicry
warning coloration
camouflage

Photosynthetic pigments
Photosystems (diagram)
Carbon fixation in the chloroplast
Photophosphorylation

Examples of In-Class Discussion Questions:
Why is the blood changing color (between the 15m depth and the surface)? Why would the algae be red?
What is a rainbow?
How do we see rainbows?
Why do we see an object as a certain color?
How does information go from the eye to the brain?
What is the value of color vision?
What is the value of being a certain color?
Can plants see color?
Can plants sense color? How?
What do plants do with light energy absorbed by pigments?
Why is photosynthesis important to plants?
What is this food, and how is it used?
What is photosynthesis?
How is ATP made?
So, what can we say about our diver and the light available at certain depths as shown on the graph?

Related Laboratory Experiments and Tutorials: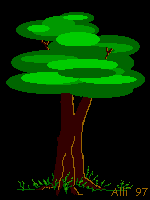 Lab 7. How does the color of light influence the rate of photosynthesis?
Lab 8. How do environmental or anatomical factors effect the rate at which plants
remove water from the soil?
Corresponding Essential Study Partner Segments:
Many of these are figures and accompanying text, but some are video clips that should help you see the process in action.
Useful

sites:
The site for your textbook Life by Ricki Lewis
| | |
| --- | --- |
| | Scuba diving links ­ http://www.wgn.net/~fabio/gallery/mylinks.htm |
| | Red algae pictures The Tree of Life Web Project (ToL) is a collaborative effort of biolgists around the world. On more than 4000 World Wide Web pages, the project provides information about the diversity of organisms on Earth, their evolutionary history (phylogeny), and characteristics. |
| | The Tech Museum | Discover | Online Exhibits the online exhibit, Make a Spash With Color, provides an easy to understand description of the components of color, aspects of visible and non-visible light, the structure of the eye, and the process that occurs within the eye that enables us to see. |
| | The Human Eye and Single Photons describes how the human eye processes light |
| | Cell Biology provides descriptions, diagrams, and animated illustrations of how the phases and components of photosynthesis work |
| | Photosynthesis a thorough description of the factors and phases of photosynthesis |
| | PHOTOSYNTHESIS An in depth and easy to understand guide to photosynthesis including charts and pictures |
| | Chloroplast Diagram A diagram showing the components within a chloroplast |
| | Biology Center Includes information and diagrams pertaining to basic biology concepts such as cells, photosynthesis, mitosis, and DNA |
The website for your textbook has flashcards organised by chapters. You are only responsible for topics discussed in class. For this scenario, flashcards with the Major Terms Introduced can be found in:

Chapter 6: Photosynthesis
Lewis, R. Life 3rd edition. WCB/McGraw-Hill:NY